What's NEXT?
NEXT is Five Lakes Church's long-term resource initiative for expanding our ability to serve this community.
We believe that now is the time to position ourselves in Sylvania in a greater way.
• The NEXT initiative will run from November 2021 to December 2024.
• The NEXT initiative aims to raise $5 million toward creating a new home facility for Five Lakes Church.
• NEXT allows us to make a greater impact for generations to come.
• Hundreds of people for over 56+ years have paved the way for us to be part of this church, and now we get to make it possible for those who aren't yet here!
The Latest
Check out the latest updates on our building progress.
"God has used Five Lakes church to make a tremendous difference in our family's life. From giving our boys a chance to flourish in the children's ministry to providing an opportunity to be baptized, Five Lakes Church has changed our lives in an abundance of ways!"
Mike Jones
"Our church has had a HUGE impact on our family. It has shaped and developed all four of us into stronger Christians and has given our children incredible roots that have grounded them in their faith and given them the confidence to go out in the world and stand firm in their Christian values and beliefs."
Susan Micsko
"Why wouldn't I use a portion of what He already owns to help build a church that will allow our local community to have access to a church that offers the ability to have a Christian community which shapes future generations to come to know our Savior, Jesus Christ!"
Joel Salazar
FAQS
Who is on our leadership team?
Elder Team:
Tom Thayer (chair), Jeff Gayer, Susan Micsko, Joel Salazar, Cindy Schwallie, Steve Babcock, Pastor Micah Sutton
Administrative Team:
Rick Maroney (chair), Karen Urbanik, Mike Jones, Greg Arnold, Adrian Soli, Sarah Rowland, Micelle Keeling, Pastor Benton Cole, Pastor Micah Sutton
Pastoral Team
Pastor Micah Sutton, Pastor Benton Cole, Pastor David Helkenn, Pastor Becky Rydman, Pastor Chris Folck, Pastor Dan Pratt
Who served on the build team?
Benton Cole
Greg Arnold
Jeff Ballmer
Kristy Sutton
Michelle Keeling
Rick Maroney
Joe Schwallie
Our leadership teams and many others have been drawn in for input throughout the process.
What is a design-build process?
A delivery method for building projects where we work with the same team as both architect and general contractor; they help to guide us through the project from beginning to end. We vetted 3 firms: one local, one regional, one national before opting to work with Midwest Church Design and Construction out of Perrysburg.
How many building phases are we anticipating?
We have plans for 2 building phases. Phase 1 is our current project, providing space to about double our current church attendance with an 800-seat sanctuary. There is no current timeline for building Phase 2, but we felt it was wise to have a plan for future growth. Phase 2 would further expand our sanctuary seating to 1500 seats while adding additional kids ministry space, student ministry space, and potentially a gym, a chapel, and additional administrative and group meeting spaces. Our land was intentionally selected and purchased to accommodate a church facility of this size, but no larger. If God grows our church beyond this capacity, we see further growth coming through additional campuses.
When did we break ground?
Site work began in summer 2022. Construction completion is expected in mid-2024.
What will happen to our current building?
Our current objective—defined by our leadership teams—is to sell the building in order to help pay for the new facility. We face two challenges in this regard. A practical challenge is the very limited market for our building and property (currently zoned residential). An emotional challenge is that we are likely to get back far less than we have invested in it, and we care about who takes our space. We are pursuing leads and praying for God to bring the right buyer at the right time.
Why do we need a new facility?
We have maximized use of our current facility and land; from here on it will limit our potential for future growth. Our vision is to make a greater impact on our community and the world for the Kingdom of God than we can make in our current facility.
Vision: God has led us to this point through inspiring vision and dramatic provision. We do not think His calling to move forward has changed, so we are proceeding by faith.
Growth: Pre-pandemic with 4 services and 1000 people attending/week, we were experiencing a rate of growth that was unsustainable in our current location. We are currently at 3 services—each consistently growing—and expect to need our new facility long before it is complete (likely mid-2024).
Our Land Purchase and Process to Date
To review our land purchase and process to date
How is inflation in the construction industry affecting our plans?
Inflation. We're seeing it in the news everywhere, we're seeing it in the lumber aisle at Lowe's, and yes – it will likely have a substantial impact on the new construction facility for Five Lakes Church. As previously discussed, our initial estimates and budgets centered around a building cost of $11 million. This cost and scope were defined using a rough-order of magnitude (or ROM) in 2020. Since that time, steel prices have gone up substantially, as well as copper, concrete, lumber, and construction labor. In the case of lumber (as seen in the chart below), prices have moderated back down to near pre-pandemic levels. We hope to see the same happen with other building materials in the coming year. The only thing that is constant in the commodity markets right now is volatility.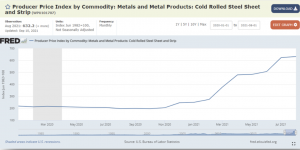 While we are doing everything in our power to hold as close to the original budget as possible, these escalations were unforeseeable at the time of budget establishment. We are actively working to understand the best times to pre-buy materials, lock pricing, and in some cases, wait it out.  We are looking at pricing on commodity futures as well as construction industry forecasts to help aid decisions. 
Costs and schedules are completely linked in large construction projects. Our teams are also considering the timing of construction and duration of construction as a means to controlling costs. Labor availability, labor pricing, materials pricing, and even time of year will have a direct correlation to cost, so effective scheduling may also help to offset some of the headwinds we are facing regarding inflation. 
References: 
https://www.nytimes.com/2021/06/21/business/lumber-price.html 
Why are we choosing to build in a time of so much uncertainty?
In every potential building project, a common question arises: "Is now a good time to build?" This is a valid question, but it is always asked in every year regardless of circumstances. In the end, the readiness of the church is more significant than the readiness of the world, and we are prepared to proceed.
While we continue to grapple with ongoing wake of the pandemic throughout the world, we must think biblically: how often has God provided for His people and His projects in the middle of difficult circumstances? Examples abound from the pages of Scripture to the stories of our lives.
We are not dismissive of the uncertainties of the world, but we are more compelled by the certainties of God.
Have we considered delaying until construction prices come down?
Yes, this has been a strong consideration. After much study and many conversations with financial and construction experts, we do not expect to see a significant reduction in construction expenses.
Commercial construction trends show that costs rarely decrease dramatically, even in times of recession. All indications suggest that a future decrease in our total project cost is unlikely.
Will debt payments keep us from future ministry pursuits?
Our church has a long history of building and growing powerful and effective ministry even as we service building debts. We also have a history of paying our debts long before they are due. Our full expectation and plan is for these trends to continue into the future. We will also maintain a long-held commitment to sowing 10% of our annual operating budget into outreach.
How do I support this vision?
You can give a financial gift or pledge toward this project at any time through cash, check, card, or stock gifts. Beyond financial gifts, join us in prayer. Our hope and trust is in Christ alone to bring this vision into a reality!
Online giving is available
HERE.
A Few Words From Our Church Family